Tobogganing
Even when the night falls, the adventure doesn't stop. The ski resort will already be closed but we offer you one last run, the best part? It will happen in the middle of the night. This last run is part of a revealing experience that will show you how adrenaline really feels like. Enjoy a tasty Italian dinner in the Italian restaurant which probably has the prettiest views. Even by night, the Cantal Trattoria is breath taking, especially if you are lucky to go there when the full moon is shining. The run that we were telling you about isn't conventional at all. Your ride will be sliding downhill on a wooden sledge, a traditional old-fashioned sledge, and the slope will be enlightened for the occasion.
You'll want to do it again every day!.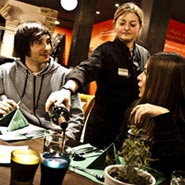 The activity has three parts
It will start at 19.00h. The participants will access the resort, once it is closed, and in the information desk they will be provided with the bracelet that will grant their exclusive last ride in the 8-person chairlift Sallent. Participants will see how the distant lights of the town get smaller as the chairlift takes them to the Cantal area.
Once the ride is over and participants are on top of the hill, their next destination is the exclusive Italian restaurant, Trattoria Cantal. Prepared with love by our Italian cuisine specialized cooks, participants will enjoy a tasty and abundant dinner accompanied by their friends and loved ones.
And then, the exciting moment finally takes place. There will be an introductory talk. Our team will explain in detail the instructions regarding the sledge ride. Then, participants will be given a wooden sledge and will slide down a slope that's almost two and a half kilometres long. The illuminated trail will take everyone back to Sextas, the starting point.
Give it a try and you won't be able to experience it just once!